FIGHTING TIPS
[*NOTE: DO NOT ATTEMPT WITHOUT PROPER TRAINING OR TRAINED SUPERVISION - DURGANA.COM RETAINS NO LIABILITY FOR ANY INJURY SUSTAINED FROM THE IMPROPER UTILIZATION OF THE FOLLOWING EXERCISES]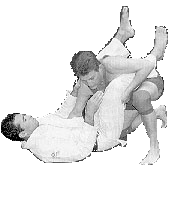 Demo of the Triangle Choke
The Triangle Choke is one of the earliest submission holds in modern Brasilian jiu-jitsu. Perfected by the Gracie family and brought to the forefront by Royce in the first of the UFC events, the triangle can be used in both traditional Gi and no-Gi submission grappling. Contrary to misconceptions about the hold, the triangle isn't just a choke. Depending on the angle of your shin and also on which arm is trapped with your opponent's head, the triangle choke can simultaneously work as an arm bar.


This choke is a finisher to a fight, if executed properly. Not only is the triangle choke a dangerous submission hold due to it's application from both guard and mount, but it can be used as a transition to several other submissions or simply as a trapping mechanism for defenseless ground-and-pound attacks.
Mat Tip: to fully lock in the triangle choke, reach over and pull your own ankle down behind your opposing knee joint

Demo of the Kata guruma/fireman's takedown
The Kata Guruma or Fireman's Takedown is a well known throw used in judo and wrestling. It has also become popular as a finishing slam, utilized in professional wrestling. At first glance, this throw seems focused on strength. And although strength plays a major factor in the delivery of this maneuver, technique and hip-quickness are key . This throw can also be done from the knees, which is a prime example of how important technique and leverage is over strength and power.


This takedown can be used to obtain points while throwing an opponent to the ground or simply as a finishing slam to a fight (from the standing position). The kata guruma is extremely useful however, it can easily be done incorrectly. Several mistakes can be made in attempting this slam from improper stance and position of legs to lack of technique or leverage. This can ultimately lead to an opponent taking advantage of the situation by sprawling, shooting for an underhook or even landing on top of your falling body.
Mat Tip: when attempting any takedown, the key is NOT to reach for a limb. Keep your arms tight to your own body